Child Development Center
CDC REGISTRATION
Welcome to Highland Baptist Child Development Center
Our mission is to provide each child the opportunity and experiences that will provide optimum spiritual, mental, social, physical and emotional development.
Welcome to HBCDC, we are looking forward to a very exciting year filled with new learning experiences, special programs and fun filled events. We value the time we have with your children and being a part of their mental, physical, emotional and spiritual growth. So much will be taking place in the lives of the children this year and we are pleased to be part of that experience.
My door is always open and I hope you will feel free to contact me with any questions that you may have.
Love in Christ,
Jesselyn
Director of CDC
---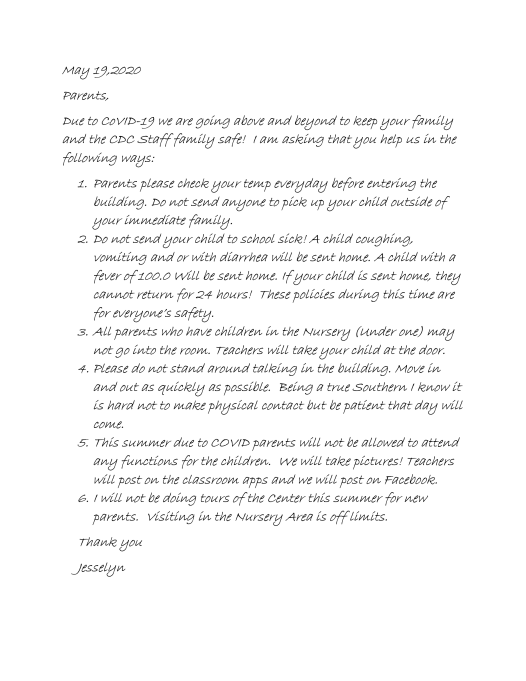 ---

Easter 2019



Highland CDC Celebrating
The Very Hungry Caterpillar's
50th Birthday


2018 CDC Christmas

The Many Faces Of CDC


Donuts & Doodling - WTOK Video




Pumpkin Patch Photos
GENERAL INFORMATION
The following ways that can be used to place your child on our waiting list.
Office of CDC 601.482.6184
Schedule an appointment to tour center
We use the ABEKA curriculum – two-year old classes through PRK-4.
We provide yearly operation from 7 a.m. until 5:30 p.m.
We serve a morning snack, lunch and an afternoon snack.
A school calendar is available that will give you our upcoming events and a list of the holidays we observe.
TUITION AND FEES (PER CHILD)
$90.00 Registration required yearly
$90.00 Supply required in January and August
MORNING ONLY PROGRAM
One-year to Pr-K4 from 8:30 a.m. to 12:30 p.m.
$210.00 per month ($170.00 for each additional child)
FULL DAY PROGRAM
$140.00 a week ($92.00 each additional child - (8-weeks to one-year)
$120.00 a week ($92.00 each additional child – (one-year to Pr-K4)
Late Fees: $20.00 per every 5-minutes after 5:30 p.m.